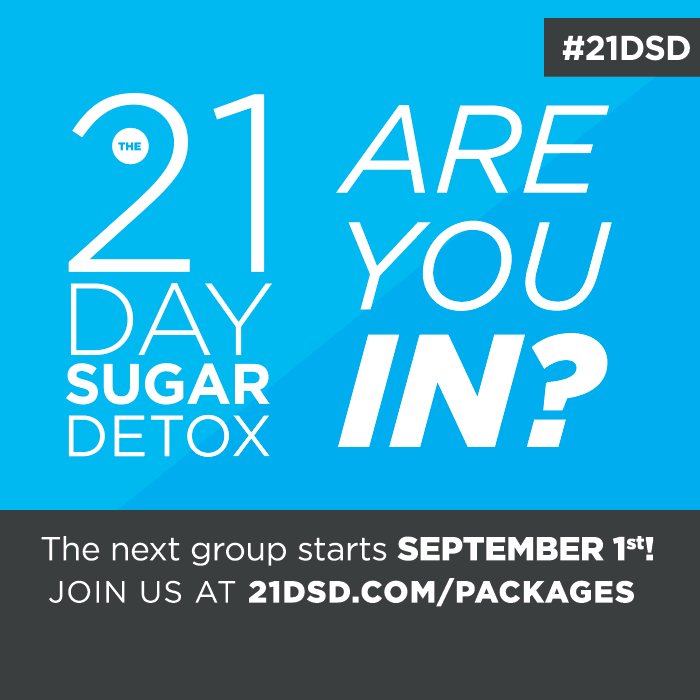 As you may know, I am the lead content developer and on staff as a 1:1 health coach for www.DianeSanfilippo.com.  Diane is the best selling author of the books, Practical Paleo and The 21-Day Sugar Detox.  A couple times a year, I reset and do the 21-Day Sugar Detox program myself!  Will you join me?  The next group starts September 1st!  You can sign up for free email support and get tons of great information and support on the 21-Day Sugar Detox facebook page, instagram, pinterest and twitter  If you want even more support, you can join her all-new, totally awesome and comprehensive online program!
In case you don't know about the 21-Day Sugar Detox, it's all about a nutritional reset that helps curb your sugar cravings and put a stop to the blood sugar roller-coaster.  That's not all, most people report significant health improvements to their mood, skin, sleep, body composition, mental clarity, and more!  Who doesn't want that in just 21-Days?  I won't say it's easy, but Diane's step-by-step guide is the best I've seen.  She practically holds your hand throughout the process.
Are you concerned a 21-Day Sugar Detox will be too overwhelming?  There are actually 3 different entry points.  You take a quiz to help you determine which level is right for you.  Still want those whole grains once a day?  No problem.  Aren't ready to try giving up dairy yet?  She has you covered!  Don't eat meat?  Well, if you are willing to eat eggs, dairy, and seafood—then she has a pescatarian plan for you!
What about special conditions?  Do you have an autoimmune condition?  There is a modification for you too!  Serious athlete?  Pregnant or breastfeeding?  The 21-Day Sugar Detox has those modification as well!
The 21-Day Sugar Detox has meal plans and a bunch of amazingly delicious recipes and if you want even more recipes, I highly recommend the 21-Day Sugar
Detox Cookbook.
If you are interested in the online program, be sure to check out all the options available depending on whether or not you already have the book, both books, or were a member of the former online program.
Do you want some 1:1 guidance along the way?  I can help you with that!  In fact, we can do a before and after assessment to see how you progress, determine any particular tweaks or perhaps some gut healing protocols and supplements that may help you succeed and take the necessary steps forward to optimal health.  Send me an email or give me a call and we can see if one of my nutritional therapy programs is right for you!