Asking my clients to change out their personal care products to safer versions has always been on every nutritional therapy protocol I write because what you put on your skin can impact your health. I also request they look at their home and landscaping products as well. What we put on our bodies, gets into our bodies and when we bathe, we wash it into our water supply. What we spray in our yards does too. Everything we do has an impact, is it proactive or counteractive for us and the environment?
I personally use a handful of products from brands that I love and trust and can also verify with the Environmental Working Group, a organization I have been supporting for years. In fact, one of the first articles I wrote was about this topic: Hormone disruptors in your personal care products?
Unfortunately, it's always obvious by the label and labels can be deceiving. Natural, organic, and "not tested on animals" only goes so far. It doesn't mean that it doesn't contain harmful chemicals or even harmful natural ingredients. "Not Tested on Animals" is indeed a good thing, but, wait, is the product tested for human safety AT ALL?
This topic has been important to me since I read, Is This Your Child by Doris Rapp, M.D. back in 1992 when I was expecting my first son and I learned about environmental allergies and the emerging field of environmental medical specialists.
To ensure I am recommending a product I 100% align with, I am proud to share that I joined forces with Beautycounter.  Beautycounter's mission is something I deeply resonate with for very personal reasons that I have been sharing about and will continue to share about over time. It's PERSONAL!
If changing your diet is too overwhelming at this time in your life – do this one thing – change your personal care products to safer versions. Beautycounter is a high performing line (the anti-aging benefits are amazing and the make-up is beautiful) and there are many safer products you can make or use instead of products that have not been properly tested and that have harmful chemicals in them. Don't take that chance for something that is easy to change.
I'll be announcing webinars that will include education but also fun stuff like anti-aging benefits and how to beautify you body, face, and life.  If you are interested in checking out what Beautycounter stands for, their mission and advocacy, and of course their beautiful and high performing personal care products for the entire family. Please send me a message and let me know if you are interested or if you have any questions.
If you are reading this before August 13th, exciting news, Beautycounter is having a 20% off sale, so if there is something you would like to try, now is the time!
Here's to safer beauty for you, your family, and the planet! Cheers!
About Me: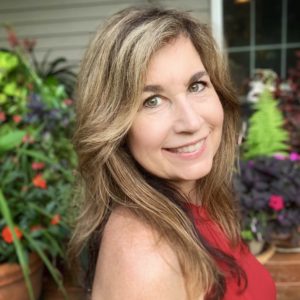 Holly Morello is a functional nutritional therapy practitioner, wife, and mom of 3 grown sons. Her passion is helping kids with ADHD, anxiety and other challenges such as behavior issues, depression, and digestive issues. She often works with entire families or at least the parents, as parents of challenging children often have their own struggles due to the stress. On the other end of the spectrum, she also love helping menopausal women who are often confused and are feeling alone by the changes to their body because they typically don't know anything about it until they are in it. And, she's been there, as well as being an overtaxed parent! Holly's goal is for others to be empowered by hope, hope that they can heal and life will get better. Her approach is to find and address the root cause of her client's challenges and to use food as medicine plus targeted nutritional therapy to help them heal and live their best lives. Her advanced skillset includes clinical testing of gut health, hormones, food sensitivities, and nutritional blood chemistry. Holly has been an advocate of safer personal and body care products for many years and is proud to represent Beautycounter, a company who's mission is to craft high performing safer personal care products for the entire family and who also work with legislators to get toxic chemicals out of ALL personal and home care products in the U.S.
Holly's Beautycounter page:
https://www.beautycounter.com/hollymorello