As I shared in the TEAM HERO post about the 100% grass-fed protein used in HEROFUEL, I've nearly raised 3 athletes. My youngest son, the only one at home full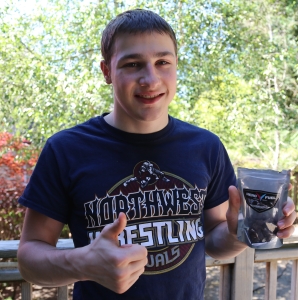 time now, is a high school wrestler. Getting his nutrition tweaked just right is no easy task! HEROFUEL makes it easier for us and tastes great too! I also wrote this article below for HERO, a company that I write for and advise because I believe in their product! I met TEAM HERO at a wrestling tournament last year and was so impressed by their product I approached them to let them know and they asked me to join their team! A perfect match since it was tweaking my middle son's diet for wrestling that inspired me to go back to school and formally study nutrition! I see many athletes fueling up on what I consider bad carbohydrates, refined sugar and flour. I also see them consuming way more than their bodies can use, sabotaging their efforts to maintain their weight. HEROFUEL has a perfect balance of protein, healthy fats, and carbohydrates, read my article below to find out more!
HEROFUEL INGREDIENT HIGHLIGHT: HONEY, ALMONDS, AND CASHEW BUTTER
Good Carbs or Bad Carbs? We have a choice in how we fuel our children's energy needs while providing their bodies with the building blocks to grow, stay healthy, learn new skills, stay sharp, and perform well.
HEROFUEL is crafted with healthy carbs (carbohydrates): organic honey, organic cashew butter, and organic almonds – whole food ingredients naturally packed with the synergistic nutrients needed to be properly metabolized and used in the body.
You won't find hidden sugars in HEROFUEL like you find in most other sports nutrition bars on the market. In fact, there are only 8 grams of sugar total in each 40g pack. That is significantly lower than most performance fuel products out there. You also won't find odd fillers and refined flours that lend little nutritional sustenance (bad carbs!).
Carbohydrates (good ones) along with healthy fats (also naturally occurring in the cashew butter and almonds), are readily used for fuel to nourish the active muscles for your athlete!
Let's take a closer look at what's so awesome about the good carb ingredients in HEROFUEL:
Organic Raw Honey – Honey is a form of sugar and while refined sugar is nutrient depleting, raw honey from a trusted source is naturally packed with vitamins, minerals, amino acids, antioxidants, and phytonutrients. Not all honey is created equal, some products labeled as honey, actually contain corn syrup and other ingredients that are NOT honey at all! That's why we are so proud of our honey supplied by, Glory Bee, crafted, right here in the Pacific Northwest! Much more than simply processors of honey, Glory Bee is committed to sustainability, community education, and the "Save the Bee" social program, which directly support organizations dedicated to saving the honey bee and combating colony collapse issues.
Organic Raw Almonds – A nearly perfect food, almonds contain protein, healthy fats, carbohydrates, vitamins, minerals, amino acids and more. The nutrients in almonds have been proven to be beneficial for cardiovascular health, energy production, and fat and sugar metabolism.
Raw Organic Cashew Butter – Another nutritional powerhouse that we source local in the Pacific Northwest, the Wilderness Poets Raw Cashew Butter in HEROFUEL provides essential fatty acids, B vitamins, fiber, protein, potassium, and iron along with just a small amount of carbohydrates and natural occurring sugar.
Food quality matters! When time is tight, you don't have to sacrifice nutrition and taste. Nourish your athlete's growing bodies and brains the best way possible – with real whole foods and well-balance healthy snacks like HEROFUEL.
---
My role is to provide nutritional writing and advice to Team Hero. I'm actually more excited about how nutrition plays a role off the mat/field or out of the gym. What can transpire for you child in every area of their life plays a big role in what "light's me up!" – as Diane Sanfilippo often asks her fans (What lights you up?) and then she says…."Do that!" I'm doing what "light's me up" – sharing the word about how real whole food plays a significant difference in every aspect of your child's life. My links to purchase Herofuel are to Amazon where I have an affiliate account. I get a very small affiliate income from Amazon, which helps support my work. Additionally, when participants that sign up for The 21-Day Sugar Detox via my affiliate link, I earn a small commission. I only promote what I truly believe in.
If you have questions, feel free to leave a comment or send me an email at holly@nourishing-excellence.com.