Tex-Mex Seasoning Blend

Gluten-Free – Paleo – Dairy Free – Sugar Free – Egg Free – Nut Free – 21DSD – Low Carb – Keto

My family and I LOVE this blend – we use it multiple times a week and for many types of food: soups/stews, carnitas, tacos, fajitas, potatoes, roasted veggies and even as a base for enchilada sauce (reducing the salt). It's full of wonder flavor and can be adapted to your liking.
You might find it odd that I labeled this recipe:
Gluten-Free – Paleo – Dairy Free – Sugar Free – Egg Free – Nut Free – 21DSD – Low Carb – Keto
The fact is, many seasoning blends have gluten, sugar, and other fillers! Not this one! My family and I use this blend for many of our recipes which often fall into the above categories.
We adapted it from the Tex-Mex Dry Rub recipe in the fabulous book, The Tex-Mex Cookbook by Robb Walsh (an excellent book with easy, delicious, real food recipes that are easy to adapt to your dietary preferences – if you love Tex-Mex, get this book!).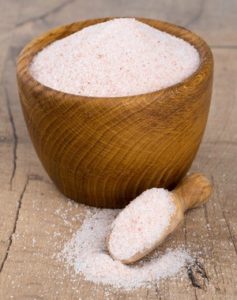 We combine Frontier Organic spices, which we buy in bulk from Amazon or locally at New Seasons Market and make big batches at a time. For smaller spices we use Simply Organic and Primal Palate. Our favorite place to buy salt in bulk is from Saltworks. We buy Himalayan Pink salt in fine grain for baking and seasoning blends and course for our salt grinder to season food to taste while cooking and at the table.
Below is my batch recipe, I use this mixture on:
chicken
fish
shrimp
beef
roasted potatoes and other hearty veggies
I also use it when I make my weekly batch of soup, stew, or chili. We don't find the basic recipe spicy for our taste so we will add a bit of cayenne to taste depending on the dish.
How Much to Use
When I make carnitas or grilled/smoke meat, I usually rub or sprinkle a generous amount on the meat before cooking (about a couple tablespoons for a roast, a large flat iron steak, or a whole chicken.
For soups, stews, and chilis – I usually sprinkle some in the meat I am browning and then more – up to 1/4 cup in a large batch of soup – tasting as I add to find the right flavor.
For potatoes or grilled or roasted veggies, I only sprinkle on a dusting.
I show the layers in this photo but please combine thoroughly before using!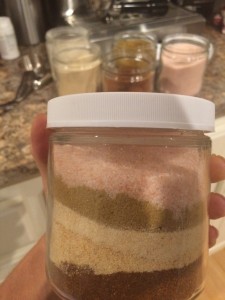 1/2 cup Chili Powder
1/4 cup Ground Cumin
1/4 cup Granulated Garlic
1/4 cup Granulated Onion (or powder*)
1/2 – 1 tsp. Cayenne Pepper (optional)
1/4 cup Saltworks Himalayan Pink salt (optional – adjust to taste – often food still needs to be salted)**
* I prefer using granulated onion since it's easier to sprinkle than powder but will use the powder if I cannot find the granulated in organic form.
** Salt is optional – I often make an unsalted batch for times when my broth might already have enough salt for soups and less salt is needed when I use this recipe for a base for my enchilada sauce (recipe to come).
For your convenience, here are the measurements for a smaller batch:
1/4 cup Chili Powder
2 Tablespoons Ground Cumin
2 Tablespoons Granulated Garlic
2 Tablespoons Granulated Onion
1/4 – 1/2 tsp. Cayenne Pepper (optional)
2 Tablespoon Himalayan Pink salt (optional – adjust to taste)
Update! My husband bought me this mason jar BPA-free shaker lid that makes using this mix super handy! You can one on Amazon: Jarware Spice Lid, Green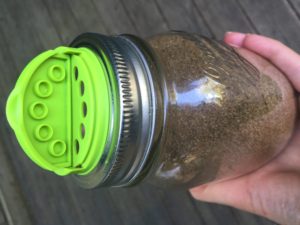 You are Beautiful!
-Holly xo
Affiliate note: Some but not all of the products I will recommend will send me a thank you if you order through my link – which I greatly appreciate so THANK YOU so much for using my links!