Gluten-Free – Paleo – Dairy Free – Sugar Free – Egg Free – Nut Free – 21DSD – Low Carb – Keto
Carnitas are definitely one of my favorite meals! With my Instant Pot , they are done from prep to table in 3 hours total (however, you can save even MORE time with a few shortcuts as noted in the recipe).
I served these in red bell pepper cups, which I cooked on my smoker (you can can do this in your oven), but I also enjoy carnitas on salads, in grilled/smoked Portabella mushrooms or just tossed with sautéed veggies. Of course if you can tolerate corn, then by all means enjoy them on authentic non-gmo organic corn tortillas! These carnitas taste amazing with just garlic, onions, and my House Tex-Mex Blend too!
And, if you are on a

ketogenic diet

, carnitas are a tasty conduit that easily absorbs the additional healthy fat, such as melted butter and MCT oil! My favorite, versatile MCT oil is a MCT oil/coconut oil blend by Calton Nutrition called SkinnyFat. See the Ketogenic notes below!



Ingredients:
3 pound pork roast (we got our from Carmen Ranch) – any size works though!
1 large or 2 small onions
2-5 garlic cloves to taste
An assortment of peppers to taste (usually we use a couple sweet bells, some Italian, poblano, jalapeño, cherry bomb and whatever looks good) to go into the carnitas
Sweet bell peppers to for serving – 1 per person (optional)
Sweet bell pepper for topping (optional)
Red or sweet onion for topping (optional)
Holly's House Tex-Mex Spice Blend (recipe below)
Fat for sautéing (we use pastured lard from happy local pigs we get at  Salt, Fire, and Time)
Oaxaca or your favorite Mexican style cheese for topping (optional/Not Paleo)
Instructions:
For optional sweet bell pepper cups, cut peppers to the size of the cup you want (roughly 1/3- 1/2), set aside and put remaining part of the peppers with the rest of the veggies.
Roughly chop all remaining veggies, including the left over pepper cups sections, and toss into a food processor and process until finely chopped. Set aside.
Cut pork roast into 2-4 chunks.
Rub the meat with Holly's House Tex-Mex Spice Blend (recipe below) and brown on skillet seasoned lightly with the pastured lard. I use locally pastured lard from Salt, Fire, and Time. I am generous with the amount of rub, using a couple tablespoons at least. If I need to save some time, I skip the browning – the carnitas are still delicious and you might like them better – so experiment!
Line bottom of  Instant Pot  with 1/2 the chopped veggies, place in browned meat, top with remaining veggies, then using Meat/Stew setting on the Instant Pot, set on high pressure for 70 min. (the cook time really takes about 90 by the time it warms up and then releases the steam at the end). If you don't have an Instant Pot, place in a 325 degree oven for about 2-3 hours until meat is tender and easily comes apart with a fork.

Remove pork pieces, bone (if there is one) and drain liquid, saving veggies for the carnitas and the liquid for soup later (or, you might light wetter carnitas that I do, my adult son likes some of the liquid in there). If there are large chunks of fat, you can remove that too. Save the bone in your freezer to make bone broth later.

Place pork in the baking dish and shred with a fork. Add the veggies to the shredded meat and stir to combine. Sprinkle about another tablespoon more Tex-Mex blend over mixture.

Crisp in 400 degree oven for approximately 20 minutes – stirring about every 5. (This last step is optional, not everyone loves their carnitas crispy!). Note: I recommend tasting after the first 10 minutes to see if you need to add more salt.

While carnitas are crisping, cut the your red peppers into serving size cups (depending on the size of your peppers 1/2-1/3) – save remaining as a garnish for serving), brush with fat left over from browning your meat (or melted ghee, pastured lard), grill or smoke your bell pepper cups (or another veggie – I love carnitas with Portabella mushrooms too). Usually I turn the smoker on high before I remove the meat and veggies from the Instant Pot so it's ready to go when I put the carnitas in the oven, the bell pepper cups take approximately 15 – 20 minutes to cook. If you don't have access to a smoker or grill, you can use your oven: rub peppers with a fat as described above for the smoker/grill, preheat oven to 400 and bake on a baking sheet lined with parchment paper or use a cast iron pan) – check in about 10 minutes – it will likely need about 20. You may have to experiment with your temperature to get the desired results.
For an optional topping/garnish, slice 1 sweet bell pepper and 1 onion thinly and sauté in lard while carnitas are crisping.
Scoop approximately 1/4 cup of crisped carnitas into cooked bell pepper cups, top with sautéed onion/peppers (Oaxaca cheese too if it fits within your dietary protocol)!
Serve with green salad with guacamole as dressing.
TIME SAVING TIP: Do not brown meat and omit all but 1 or 2 spicy peppers, skip browning/crisping.
For my Mexican spice blend:
I combine spices from bulk Frontier Organic spices. I made big batches at a time. Here's my batch recipe, I use this mixture on chicken, fish, and beef too! I even use it on roasted potatoes. I also use it when I make my weekly batch of Beef Chili. I show the layer in this photo but please combine thoroughly before using!


1/2 cup Chili Powder
1/4 cup Ground Cumin
1/4 cup Granulated Garlic
1/4 cup Granulated Onion
1/2 – 1 tsp. Cayenne Pepper
1/4 cup Himalayan Sea salt (adjust to taste – often food still needs to be salted)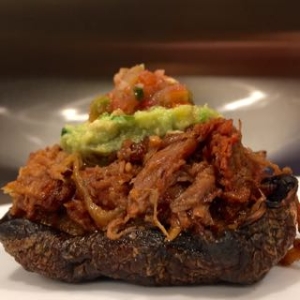 For Ketogenic: Carnitas are a great conduit for fat! I pour an additional tablespoon of my favorite MCT/Coconut oil blend, Calton Nutrition Skinnyfat on top of my carnitas. Some people cannot eat red peppers and stay in ketosis in that case, I recommend using my other favorite caritas cup, a Portabella mushroom or even mushroom caps work great as do red cabbage lettuce cups!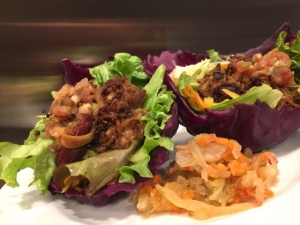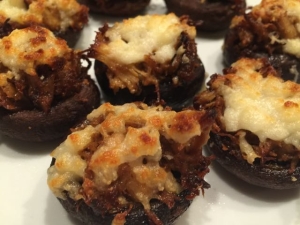 Note: Optional, not Paleo (which we use as our "framework"), or low carb if you have more than one (but a whole food) – my husband and sons usually enjoy their carnitas on organic non-gmo corn tortillas. They often buy the Food For Life brand, which are sprouted, and therefore, easier to digest, but lately they have been enjoying fresh organic, non-gmo tortillas from Three Sisters Nixtamal they get at the Portland Farmer's Market (also available in markets, like one of our favorite's Flying Fish Seafood, and New Seasons). My husband actually bought some masa and a tortilla press from Three Sisters recently and makes them just before eating.
If you use my recipe and enjoy it, let me know! If you have suggestions, I'm all ears!
You are Beautiful!
Holly
Affiliate note: Some but not all of the products I will recommend will send me a thank you if you order through my link – which I greatly appreciate so THANK YOU so much for using my links!